Justin Schlegel
RHP Real Estate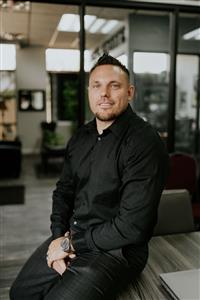 First of all, I am a family man… I love spending time with my beautiful wife, Jennifer, our two daughters and most recently a son. We have three dogs too. I even still play on a competitive adult football team so I lead a busy, but fun life! I am raising a family of my own so often share in the same hard decisions you need to make. My goal is to become friends after working together and not just be your Realtor. I want to be your Real Estate Resource for life that you can refer to family, friends, co-workers and anyone else you know needing assistance. I originally obtained my Real Estate license in 2003 and then upgraded to a Broker's license in 2007. I currently serve as the Treasurer for WeMAR and also sit on the Board of Directors for AAR (Arizona Association of Realtors). In the past, I have served as Chairperson for WeMAR's Young Professionals Network and Chairperson for the ARMLS (Arizona Regional Multiple Listing Service) MLS Committee. I have been the Designated Broker for RE/MAX Preferred Choice since March of 2013 and served as Managing Broker prior to that for a few years. Proudly I can say I'm a member of the RE/MAX Hall of Fame. In 2013, I won the prestigious "30 Under 30″ National Award from REALTOR Magazine and was also named to the Real Trends America's Best Real Estate Agents list for 2013 & 2014. I have a wide variety of experience with buyers and sellers of residential, new construction, land, retail, multi-family, commercial/industrial and investment properties. Having led up to an eight-person team during my Real Estate career, I know how to manage multiple personalities and coordinate tasks. Regardless of team size, client representation has always been priority #1. Providing consistent & prompt communication, accurate market data and promoting our client's best interest(s) is constantly at the top of the list. Specialties: I specialize in representing sellers in order to maximize value by using better marketing tactics and negotiating harder than the competition. We can also assist buyers valleywide. We've worked with REO/Corporate Sellers, Short-Sales, Investment and Estate/Probate properties. Myself and my partner together have held the following designations: GRI, ABR, CNE, CSSN, A-REO & YPN. These all equal better representation for our clients and we're always continuing our education.
We're here to help!
For more information about classes and events, please contact us using the information below.
Someone from our
Member Experience Team
will contact you during business hours to answer your questions.
Contact Information
Toll-Free:
855-931-9294


Southeast Valley:
480-477-5882
West Valley:
623-931-9294

Pinal County:
520-421-1222
Cochise County:
520-458-7802
Our office phone numbers connect to all locations. Our team members can assist you from any location or connect you to someone at another location.
WeSERV Hours
Southeast & West Valley Chapters
Monday-Friday, 8:00 AM-5:00 PM
Pinal Chapter
Monday-Friday, 8:00 AM-4:30 PM
Cochise County Chapter
Monday-Friday 8:00 AM-5:00 PM
Closed for lunch 12:00-1:00 PM, daily
All WeSERV offices are closed for state and federal holidays
Walk-ins and appointments welcome!
Southeast Valley Chapter
1733 E Northrop Blvd, Chandler, AZ 85286
Fax: 480-835-1329
West Valley Chapter
9001 W Union Hills Dr, #8, Peoria, AZ 85382
Fax: 623-931-1008
Pinal County Chapter
820 W Cottonwood Ln, #9, Casa Grande, AZ 85122
Fax: 623-931-1008
Cochise County Chapter
125 S 2nd St, Sierra Vista, AZ 85635
samls@seazrealtor.com